PRIDE AND PREJUDICE AND POISON
Elizabeth Bennet's health rapidly deteriorates after an unexpected visit by Lady Catherine de Bourgh at Longbourn.
Unlike Jane Austen's original Pride and Prejudice, now Mr. Darcy must save Miss Elizabeth's life before he can even propose to her!
If you ever wanted the double wedding to have double the drama…
PRIDE AND PREJUDICE AND SECRETS
Newly married Elizabeth Bennet and Mr. Darcy expect an uneventful life of bliss at Pemberley. Life, however, has other plans…
Between unexpected visitors, scandalous secrets, obnoxious in-laws, and Mr. Darcy's humorous teasing of Elizabeth about cows, their honeymoon never has a dull moment.
Then someone dies…
FORCED TO MARRY
Forced to marry…even though they hate each other.
Elizabeth Bennet just refused Mr. Darcy's disastrous marriage proposal at Hunsford. Unfortunately, while walking on the grounds of Rosings Park to cool her ire, Mr. Darcy and Elizabeth are hopelessly compromised. 
Now, Mr. Darcy and Elizabeth Bennet are forced to wed even though they are still angry at each other. They must learn to set aside their pride and prejudice to get along or suffer the worst marriage in all of England.
Will they learn to set aside their pride and get along? Or are they doomed to suffer the worst marriage in all of England?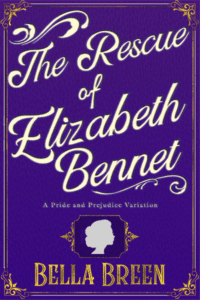 THE RESCUE OF ELIZABETH BENNET
Elizabeth will marry Mr. Collins even if Mrs. Bennet has to drag her to the altar.

When Mr. Bennet dies, Mr. Collins takes over Longbourn. He shows his true character when he vows to force the Bennets from their home unless he is given Elizabeth Bennet's hand in marriage.
Elizabeth, who has promised only to marry for love, refuses. But as her mother and sisters take increasingly drastic steps to force Elizabeth to wed, how long can she resist? Will Elizabeth make the ultimate sacrifice to save her family from being cast out?
Mr. Darcy fights his attraction to Elizabeth, but when he discovers Elizabeth is set to marry Mr. Collins, the next day, he must face his feelings before his love slips away. Can he rescue Elizabeth before it's too late? And if so, will the pair of them survive Mr. Collins' revenge?

DARCY'S CINDERELLA
Will Mr. Darcy save Elizabeth in time?
While Mr. Darcy rushes to London to help Lydia avoid ruination, the unexpected death of their father throws Elizabeth Bennet's future into doubt. Elizabeth accepts the first position as a governess she can find—with the Countess of Bremont and her ward, Madeleine.
The Countess is crueler than she could have imagined, and Elizabeth finds herself a virtual prisoner alongside Madeleine. Elizabeth must devise a plan to free herself and her young friend from the Countess's schemes…
Mr. Darcy searches for Elizabeth with the only information he has: her name and her position. Will he find Elizabeth before the Countess separates them forever?
Previously titled as Love Unmasked.
MR. DARCY GOES TO BRIGHTON
An unexpected second chance…but will Lydia ruin it?
A much needed escape…
Mr. Darcy abruptly leaves Pemberley to avoid Miss Bingley's matchmaking. Perhaps Brighton and Col. Fitzwilliam will distract him from the memories of Elizabeth Bennet. And the futility of improving himself for a woman who does not love him.
A Change of scenery…
Elizabeth, along with the Gardiners, accompany Lydia to Brighton in hopes of preventing trouble. Elizabeth's secret hope is that the trip will help her get Mr. Darcy's memory and her regretful words out of her head.
An unexpected second chance…
From the moment Mr. Darcy runs into Elizabeth, he vows to show that he has taken her words to heart and improved. Elizabeth is embarrassed, thinking he must hate her. But his warmth and genial nature has them grow close during their time in Brighton.
Will their yearning and love be enough to overcome their class differences? Or will her family's behavior push Mr. Darcy away again….and this time forever?
For the first time, all five novels and one novella are together in two eBook bundles on Amazon and one bundle everywhere else.
An immersive Mr. Darcy and Elizabeth Bennet experience unlike any other.