The Rescue of Elizabeth Bennet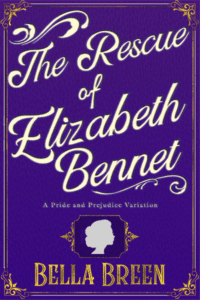 A Pride and Prejudice Variation Book 2
Elizabeth will marry Mr. Collins even if Mrs. Bennet has to drag her to the altar.
 


When Mr. Bennet dies, Mr. Collins takes over Longbourn. He shows his true character when he vows to force the Bennets from their home unless he is given Elizabeth Bennet's hand in marriage.
Elizabeth, who has promised only to marry for love, refuses. But as her mother and sisters take increasingly drastic steps to force Elizabeth to wed, how long can she resist? Will Elizabeth make the ultimate sacrifice to save her family from being cast out?

Mr. Darcy fights his attraction to Elizabeth, but when he discovers Elizabeth is set to marry Mr. Collins, the next day, he must face his feelings before his love slips away. Can he rescue Elizabeth before it's too late? And if so, will the pair of them survive Mr. Collins' revenge?


The Rescue of Elizabeth Bennet is a 62,000 word, standalone damsel in distress novel with a guaranteed happily ever after. This novel has received over 192,000 views on fanfiction.net.
A Pride and Prejudice Variation Book 1
Forced to marry…even though they hate each other.
Elizabeth Bennet has just refused Mr. Darcy's disastrous marriage proposal at Hunsford. Unfortunately, while strolling on the grounds of Rosings Park, Mr. Darcy and Elizabeth find themselves hopelessly compromised — in full view of Mr. Collins, Col. Fitzwilliam and two society mavens!


Now, Mr. Darcy and Elizabeth Bennet are forced to wed — even though they are still angry at each other. Will they learn to set aside their pride and get along? Or are they doomed to suffer the worst marriage in all of England?


Forced to Wed is a 53,000 word, standalone enemies to lovers novel with a guaranteed happily ever after. This novel has received over 150,000 views on fanfiction.net. Its print length is 350 pages.

Pride and Prejudice and Secrets
The Poison Series – Book 2
Newly married Elizabeth Bennet and Mr. Darcy expect an uneventful life of bliss at Pemberley. Life, however, has other plans…
Between unexpected visitors, scandalous secrets, obnoxious in-laws, and Mr. Darcy's humorous teasing of Elizabeth about a certain farm animal, their honeymoon never has a dull moment.
Then someone dies…
Pride and Prejudice and Secrets is a 58,000 word sequel to Pride and Prejudice and Poison.
Pride and Prejudice and Poison
The Poison Series – Book 1
When Elizabeth Bennet becomes violently ill after an unexpected visit by Lady Catherine de Bourgh at Longbourn, her health deteriorates rapidly. Now, with Miss Elizabeth's life on the line, Mr. Darcy is the only one with the connections and means to save her life…
Does Mr. Darcy bring help in time or is he too late? What caused Miss Elizabeth to be violently ill? And most importantly, who did it?
Pride and Prejudice and Poison is a 52,000 work novel.
Current Works in Progress
This is a rare treat indeed, a newly published Pride and Prejudice sequel. As that is my absolute favourite trope, I am smiling like the Cheshire cat... Entering at the Darcy/Bingley wedding. Elizabeth was reflecting on a couple of rather disturbing occurrences that had happened before their courtship and it set the tone of what was to come. The weddingnight was a high-light, it is a chaste read and I will try not to give too much away so I will only mention that awkwardness and embarrassment had me laughing out loud. It was done with charming sweetness though. Darcy was a bit stiff in this story and I loved how Elizabeth worked on his tactile sense to loosen him up. Elizabeth's honesty was another trait I adored. After a few days in London, shopping and going to the Opera, ODC ventured to Pemberley with Georgiana and Mrs Annesley. The the trip was rather eventful and the honeymoon at Pemberley was a rather crowded one... The guests brought everything from joy to threats and insults but there might even be a murderer in their midst. Ends with an epilogue. A thrilling read, in a light-hearted sort of way, that had me biting my nails one minute and laughing out loud the next...
Why do you do this to my poor nerves? P.S. This is actually amazing. I love this story.
Thanks for your story. I enjoyed it very much. The story does make sense, but how you finished it off was quite good. Thanks for the surprise.
I thoroughly enjoyed it. Can't remember if I correctly predicted the real villain, but it was fun trying to guess who done it. I look forward to reading more in your next story.
I have just discovered this lovely story and am hooked!!!! I can't wait to read what happens next!!!! GREAT story!!!
I honestly didn't think the sequel could equal or surpass the first novel….but this mystery and reveal was astounding!!!! LOVE this book!!!!
I must say I am craving your stories more and more. They feel so genuine and true to the real characteristics of the protagonists.
I enjoy your stories immensely and can't wait for future updates. You have a lovely gift to share.
Oh, such a beautiful story. I like it when they're like this and neat and clean. A beautiful story that I can read to my grandchildren. Thanks so much for sharing this with us.
What a beautiful, touching ending to a lovely, engaging story!!!! I have enjoyed having the privilege to read this heartwarming tale!!! GREAT story!!
Sign up for my newsletter to receive the latest news, sales and chapter notices!
Contact Me
Bella Breen is the author of over 8 published novels. A graduate of the University of South Dakota with a B.S. in computer science, she lives with her Welsh Corgi and Bengal cat in the great plains. Her favorite book has always been Pride and Prejudice and the best Mr. Darcy will always be Colin Firth.