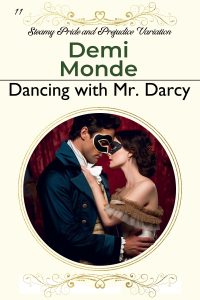 Elizabeth Bennet, blinded by prejudice. Mr. Darcy shackled by pride. And a masquerade ball that could change everything.
In this tempestuous Pride and Prejudice variation, enemies become lovers as Mr. Darcy and Elizabeth Bennet navigate a treacherous path. A passionate encounter at a masquerade ball sets the stage for a rollercoaster of obstacles and unexpected twists, fiery exchanges, and scorching desire.
Will love conquer all as they defy society's expectations?
When Jane Bennet falls ill at the Bingley's Netherfield estate, Elizabeth arrives to care for her sister, only to uncover a hidden collection of scandalous erotic novels in the library.
Caught in the act by the brooding Mr. Darcy, Elizabeth is unable to deny the smoldering desire between them. As they navigate the thin line between propriety and passion, they steal forbidden kisses and fiery glances, all while grappling with the growing intensity of their feelings.
However, their journey is not without its obstacles, as the meddling Mr. Collins and the nefarious Mr. Wickham conspire to derail their love. In this slow-burning tale of desire and devotion, follow Elizabeth and Mr. Darcy as they confront the barriers of Regency-era society and their own hearts to find a love that defies convention and culminates in a joyous, unforgettable wedding and wedding night.
Discover the passion, intrigue, and slow buildup of longing in this variation of Pride and Prejudice, where the path to true love is filled with temptation, adversity, and the tantalizing promise of a love that transcends all barriers.
Passion and romance collide amidst a tempestuous storm, forever altering the lives of Elizabeth Bennet and the brooding Mr. Darcy.
While touring the beautiful countryside with her beloved aunt and uncle, Elizabeth Bennet becomes lost in a sudden storm and stumbles upon a grand estate, seeking refuge from the raging tempest. To her surprise, the master of the house is none other than Mr. Darcy, the very man whose heart she once scorned.
As the tempest rages outside, a fire ignites between Elizabeth and Mr. Darcy, their shared passion growing stronger with each passing moment. However, their newfound intimacy is disrupted by the unexpected arrival of relative whose scheming tears the lovers apart.
Will Mr. Darcy be able to find Elizabeth and win her heart once more? Will they be able to overcome the obstacles that stand in their way and declare their love for one another?
Abducted and facing ruin, can Elizabeth's wits save her from a dastardly plot? And will Mr. Darcy find her in time?  
When a false friend tricks Elizabeth, she is abducted by carriage from Meryton and carried hours away to a bawdy house. If Mr. Darcy does not rescue and pay her ransom, she will be sold to the highest bidder. 
Elizabeth must depend on her wits to survive. But the clock is ticking. Will Mr. Darcy choose to risk his life for the woman he secretly loves but who despises him? And if so, can he rescue her before it's too late? 
This 40,000 word steamy Pride and Prejudice variation features kidnapping, compromise, forced marriage, rescue by Mr. Darcy, double wedding, Christmas holiday ball and a happily ever after.
A salacious secret at Pemberley. Will Mr. Darcy's carefully hidden delights be exposed? 
When Elizabeth Bennet, the woman Darcy yearns for but cannot marry, arrives unexpectedly at Pemberley, he struggles not to succumb to tormented desire. 
But when she discovers his secret dungeon, his gloves come off, and the pleasure begins.
It's up to Mr. Darcy to teach Elizabeth the language of love…
 Miss Elizabeth Bennet knows many things. The secrets of the marriage bed are not among them. When her mother fails to be of any use, she has no idea what to expect—or if her betrothed's behavior has already crossed the line.
Fitzwilliam Darcy's future bride is a temptation like no other. Unfortunately, she is as innocent as she is responsive to his charms. It will be a miracle if they make it to the wedding night without scandal. Can Mr. Darcy instruct her on the pleasures between men and women without succumbing to his own passion?
All Miss Elizabeth has left is her pride…
After Mr. Bennet's death, Elizabeth Bennet is cast out of Longbourn. Escaping a one way trip to a brothel, Elizabeth finds work at an inn and is stumbled upon by Mr. Darcy.
She angrily leaves for London on his charity but gossip has a way of finding a sympathetic ear, and Elizabeth will find that outrunning disaster isn't as simple as outwitting a suitor…
At last, Elizabeth is his … until his domineering aunt causes trouble. Mr. Darcy can finally claim the rights of the marriage bed, uninterrupted. That is, until someone in the servants' quarters at Pemberley decides to make Elizabeth as miserable as possible.
On the verge of happiness everlasting , a worried Mr. Darcy questions the local physician about a marital relations issue… and when odd happenings targeting Elizabeth continue at Pemberley, Mr. Darcy must decide between his past or his future… or lose Elizabeth forever.
This sensual Pride and Prejudice variation is 96,000 words and features enemies to lovers.
A ball. A ripped hem. Mr Darcy's desires…
If Elizabeth Bennet thinks she can hide from Mr. Darcy after pestering him about Wickham during the ball, she can think again.
But when Mr. Darcy opens the guest bedroom door and discovers Elizabeth dressed only in her chemise… thinking is the last thing on his mind.

If you want to read an Elizabeth Bennet comprised fanfic, Pride and Prejudice fanfiction dark Darcy then this book is for you. Readers have found this book by Pride and Prejudice erotic fanfiction, Darcy forced himself on Elizabeth.
Mr. Darcy and Elizabeth's wedding night interrupted…
The newly married Elizabeth and Mr. Darcy arrive at Pemberley ready to enjoy the benefits of marriage… especially the one benefit they'd yet to savor.
Their hopes are deflated, among other things, when his aunt Lady Catherine de Bourgh makes an unexpected and unwanted visit. 
This book features these searched for terms: Mr. Darcy sex, one of the
followup stories of Darcy and Lizzy on their wedding night, finally E
lizabeth and Mr. Darcy wedding night, Pride and Prejudice wedding night fanfic.
Mr. Darcy is determined Elizabeth will know how much he ardently admires her …
When he unexpectedly discovers Elizabeth touring his estate he grabs this second chance at romance, determined to show her… everything….
Elizabeth is nonplussed at Mr. Darcy's changed behavior. Soon she appreciates how much he has changed along with the depth of his admiration….
This book features Darcy Elizabeth compromised, steamy Pride and Prejudice, Darcy Elizabeth hot.
Mr. Darcy rings Elizabeth's bell …. he tells her what he wants, what he really, really wants
Mr. Darcy and his new wife Elizabeth, travel to visit their friends, the Bingleys. 
A carriage accident, a deep secret revealed by Mr. Darcy, a snowball fight and jingling bells all make an appearance during this romantic interlude of the Darcy's married life. 
Mr. Darcy Rings My Bell is a 10,000 word steamy, sensual and intimate Pride and Prejudice retelling short story.